Andrea Salinas—I couldn't be more excited!
Did you hear? Oregon is getting a congressional sixth district—and it's right here in our area.
The new district starts in Beaverton and picks up a few neighborhoods in Lake Oswego, Tigard, Tualatin, Sherwood, Wilsonville, and down 99W to McMinnville and Monmouth and down I-5 to Salem, plus all of Yamhill and Polk counties. It's a diverse district — over 20% Hispanic.
In 162 years, Oregon has only elected five women and one person of color to the U.S. House of Representatives. Oregonians deserve leaders that represent all of our diverse communities. Far too often, political observers, funders, and institutions overlook leaders who look different than those who have traditionally wielded power.
Here's the great news: State Rep. Andrea Salinas has thrown her hat in the ring—and I couldn't be more excited.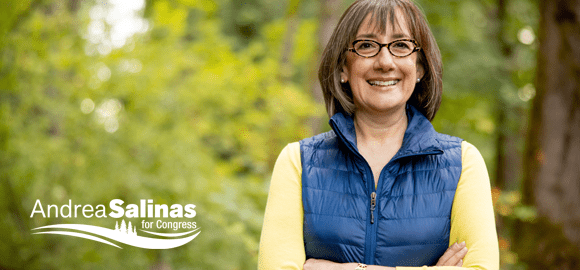 Andrea is the daughter of an immigrant farmworker and would be the first Latina to serve Oregon in Congress. Andrea is a GREAT legislator and she is going to make an extraordinary representative in Congress.
When you need to get something done in the Oregon House, folks know that you'd better get Andrea involved, because that's how change happens.
I'm asking you today to make a donation to Andrea's campaign for Congress.
And here's how committed I am: I will personally match every donation of up to $50 per person to her campaign made before the end of November — up to a maximum of $2500.
That's how important Andrea's campaign is to me.
Please join me as a founding donor to Andrea's campaign.
In just under a year, you'll be able to smile and tell your friends and family that you were there at the beginning of this historic campaign.
Let's make it happen!
Rob
Posted on November 19, 2021.