Tell Trump, "Ignoring the Coronavirus won't make it go away."
While the rest of the world is emerging from months of lockdown and extensive safety precautions, the U.S. passed three million confirmed cases. Even in Oregon, we're seeing a spike with hundreds of new cases every day.
And President Trump's response to dealing with the deadliest health crisis in a generation? Cutting funding for public testing sites and eliminating coronavirus testing.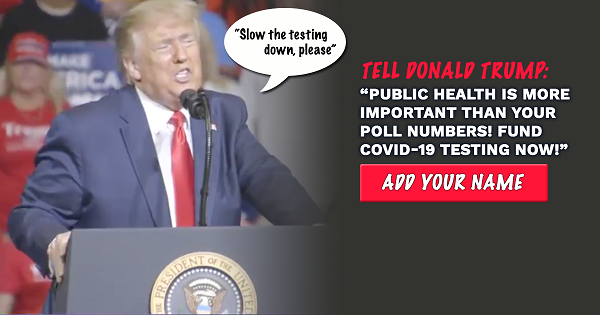 With the pandemic worsening daily, at a time when states most need a supportive partner in the federal government, Donald Trump is turning his back on us.
I've partnered with leaders and organizations here in Oregon and across the country to tell Donald Trump to fund more clinics and give our communities and frontline workers the support we need! Will you join us and sign our petition?
Two weeks ago, President Trump ignored expert advice on social distancing and held a campaign rally in Tulsa, Oklahoma. This week, Tulsa County's confirmed cases for COVID-19 are breaking records.
Donald Trump understands the impact of COVID-19 and he knows the value of testing. He's tested every day. Everyone he comes in contact with is tested.
But he's actually trying to make it harder for the rest of us to access those same tests, because he doesn't like seeing the number of confirmed cases go up.
Help ensure the protection of everyone, not just the president and his inner circle. Sign our petition and tell Donald Trump that our public health is more important than his fragile ego. It's time to make sure that everyone who needs a coronavirus test can get tested.
Rob
Posted on July 12, 2020.